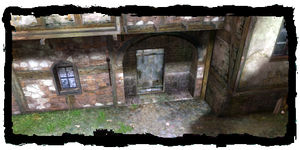 Kalkstein's place is in "Little Mahakam", right next door to Vivaldi. There is a shingle hanging outside his door.
Signboard

Kalkstein, Master of Alchemy
Wanted: Individual handy with a sword
Inquire within
Later, once the advertised service has been rendered, the plaque merely reads, "Kalkstein, Master of Alchemy".
The interior is quite spartan. On the main floor are his living quarters, complete with several containers full of good stuff, and a nicely potted wolf's aloe. The basement, however, is where the real action is. There you will find his laboratory, not to mention a couple of chests, a wardrobe and, in Chapter III, a teleporter.
Kalkstein is also quite hospitable, allowing Geralt to stop and meditate there any time he is in residence.
Ad blocker interference detected!
Wikia is a free-to-use site that makes money from advertising. We have a modified experience for viewers using ad blockers

Wikia is not accessible if you've made further modifications. Remove the custom ad blocker rule(s) and the page will load as expected.