The Witcher
The Witcher follows the adventures of Geralt of Rivia. After a routine mission at the start of the game, Geralt is found unconscious. When he comes to, he experiences severe amnesia. He gradually learns that he was a renowned witcher, and that he has friends and enemies throughout the Continent. The Witcher features branching story paths that can lead to different events unfolding.
While Geralt is housed at the witcher stronghold of Kaer Morhen, the primary castle is attacked by a gang of bandits called Salamandra, led by a criminal known as the Professor. It's during this time that Geralt meets Triss Merigold. Most of the game is spent hunting down the bandit group and dealing with their leaders. Throughout the game, Geralt can choose to ally himself with The Scoia'tael, the Order of the Flaming Rose or remain neutral.
The game concludes with Geralt killing the Order of Flaming Rose's Grand Master by order of Foltest. The King of the Wild Hunt arrives to claim the Grand Master's soul. As Geralt is closing loose ends, an assassin attempts to kill Foltest.
The Witcher 2: Assassins of Kings
The Witcher 2: Assassins of Kings starts immediately after the first game. After repelling the first assassination attempt, King Foltest is eventually killed by the Letho. Geralt embarks on a journey to find the killer. He discovers the Kingslayers organization who hopes to destroy the Northern Kingdoms.
Characters returning from the first game include Triss Merigold, Zoltan, and Dandelion. A new character is introduced, Vernon Roche, a member of the Temerian military who has been sent to help Geralt.
The narrative takes Geralt from Foltest's side, through an assault on La Valette Castle, then through Flotsam, Aedirn (either the dwarven town of Vergen or a Kaedweni camp depending on his alliances) and finally to Loc Muinne where he has a final face off with a dragon.
The Witcher 3: Wild Hunt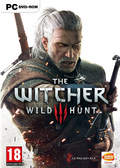 The Witcher 3: Wild Hunt continues the story where the second game ends. Geralt seeks to embark on a new and personal mission, looking for his long lost love, the powerful sorceress Yennefer of Vengerberg.
Geralt's personal mission comes during dark times, with the otherworldly Wild Hunt invading the Northern Kingdoms.


Witcher Characters

Races

Monsters

Factions

Lands

Further Reading