Ad blocker interference detected!
Wikia is a free-to-use site that makes money from advertising. We have a modified experience for viewers using ad blockers

Wikia is not accessible if you've made further modifications. Remove the custom ad blocker rule(s) and the page will load as expected.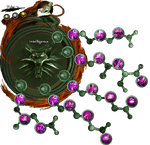 The Intelligence attribute governs not only intelligence, but is also related to signs and rituals performed at Places of Power. There are five basic levels, each with a selection of attributes. The full Intelligence attribute tree can be found here or by clicking on the tree icon to the right.
Level One Edit
Level Two Edit

Intelligence (level 2)


Herbalism

Enables identification and gathering of plant-based ingredients
Geralt must read various books and/or be taught to identify and harvest each plant type


Monster Lore

(For any which Geralt has already learned, there is no advantage.)


Oil Preparation
Level Three Edit

Intelligence (level 3)


Knowledge of the Cleansing Ritual


Ingredient Extraction


Bomb Preparation

Enables the preparation of bombs
Level Four Edit

Intelligence (level 4)


Focus

Duration of Signs increased by 25%


Knowledge of the Life Ritual

Enables performance of the Life Ritual in Places of Power
Level Five Edit
| | | |
| --- | --- | --- |
| Intelligence (level 5) | Mental Endurance | |