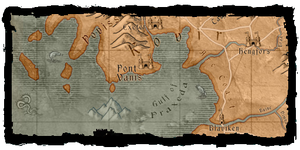 The Gulf of Praxeda is a body of water on the North Sea. The Targo, Braa and Buina rivers all empty into it.
This location features in The Tower of the Swallow novel.
Notable places
Edit
Ad blocker interference detected!
Wikia is a free-to-use site that makes money from advertising. We have a modified experience for viewers using ad blockers

Wikia is not accessible if you've made further modifications. Remove the custom ad blocker rule(s) and the page will load as expected.