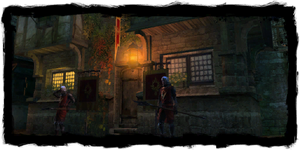 Law and order in the Temple and Trade Quarters is the responsibility of the City Guard, which is headquartered at the guardhouse. Velerad, the burgomeister's office is located there.
In Chapter III, we find that the City Guard has been forced to share their headquarters with the Order.
Associated quests
Edit
| | | |
| --- | --- | --- |
| | The source of law and order in the Merchants' Quarter is the city watch, with headquarters in the watchtower, sometimes called the guardhouse. The burgomaster Velerad can often be seen here. He oversees all affairs connected with crime and the city's security. | |
Ad blocker interference detected!
Wikia is a free-to-use site that makes money from advertising. We have a modified experience for viewers using ad blockers

Wikia is not accessible if you've made further modifications. Remove the custom ad blocker rule(s) and the page will load as expected.