Ad blocker interference detected!
Wikia is a free-to-use site that makes money from advertising. We have a modified experience for viewers using ad blockers

Wikia is not accessible if you've made further modifications. Remove the custom ad blocker rule(s) and the page will load as expected.
A beast with the body, tail, and back legs of a lion; the head and wings of an eagle; and an eagle's talons as its front feet. Because the lion was traditionally considered the king of the beasts and the eagle the king of birds, the griffin was thought to be an especially powerful and majestic creature. It typically feeds on grazing sheep and cattle, but if threatened or aggravated it may attack just about anything, including humans. A common weakness witchers exploit is an attraction to to smell of burning buckthorn. Griffins choose their mates at a young age of around and live the rest of their lives together.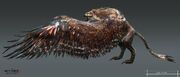 | | |
| --- | --- |
| | This is a disambiguation page — a navigational aid which lists other pages that might otherwise share the same title. If an internal link led you here, you may wish to change the link to point directly to the intended article. |