This article is a stub. You can help Witcher Wiki by expanding it.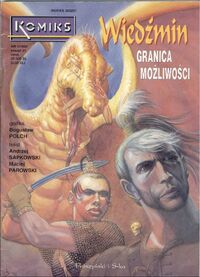 "Granica możliwości" (The Bounds of Reason) is a graphic novel written by Maciej Parowski and illustrated by Bogusław Polch based on "The Bounds of Reason" short story by Andrzej Sapkowski. It is the fifth published Witcher comic (after "Geralt"). It is followed by "Zdrada".
Characters
Edit
it is possible that this list is not entirely correct
Ad blocker interference detected!
Wikia is a free-to-use site that makes money from advertising. We have a modified experience for viewers using ad blockers

Wikia is not accessible if you've made further modifications. Remove the custom ad blocker rule(s) and the page will load as expected.