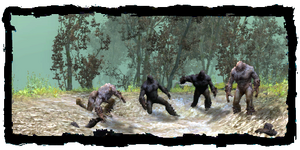 The Golem burial ground is in the north-central part of the Swamp. Notably, there are several stone golems, frozen in position scattered about the place and three very interesting posts that appear to call forth lightning when touched. One of the golems is not buried and much closer to these posts than the rest.
Associated quests
Edit
Ad blocker interference detected!
Wikia is a free-to-use site that makes money from advertising. We have a modified experience for viewers using ad blockers

Wikia is not accessible if you've made further modifications. Remove the custom ad blocker rule(s) and the page will load as expected.