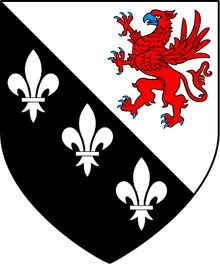 Garramone is a county in Temeria. It was governed at one point by Count Robert of Garramone, husband of Muriel the Fair. A later count, Daniel Etcheverry, was rudely awakened the night after the Velen celebrations by the siege of the fortress at Maribor.
The coat of arms of County of Garramone is never actually described in the books. This particular coat of arms was created by our editor Juraj103 based on Ciri´s family tree in Avallac'h cave in Skellige Islands in The Witcher 3: Wild Hunt.
Ad blocker interference detected!
Wikia is a free-to-use site that makes money from advertising. We have a modified experience for viewers using ad blockers

Wikia is not accessible if you've made further modifications. Remove the custom ad blocker rule(s) and the page will load as expected.