Fyresdal is a village located on the southern shore of Ard Skellig under Snow Giant's Arm. The elders of this village claim to have seen a dragon but upon further investigation with the help of a witcher, it was discovered that it was only a very large and powerful Forktail.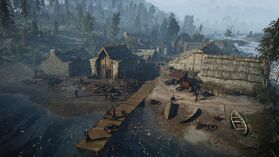 Map description
Edit
Those living here are tough on the outside, but soft and tender within.
Notable villagers
Edit
Associated quests
Edit
Ad blocker interference detected!
Wikia is a free-to-use site that makes money from advertising. We have a modified experience for viewers using ad blockers

Wikia is not accessible if you've made further modifications. Remove the custom ad blocker rule(s) and the page will load as expected.