Infobox Needed
This article or section needs an infobox template added.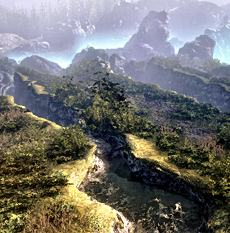 The Forest ravines are located in the wilderness between Vergen and the Kaedweni camp, in The Witcher 2: Assassins of Kings. Geralt visits this place in Chapter II during Where is Triss Merigold? quest, when he need to talk with a troll which lives there.
Points of interest
Edit
Journal entry
Edit
Wooded gullies scarred the land between Vergen and King Henselt's camp. Innumerable monsters, including trolls, inhabited these ravines, so they were not exactly ideal places to picnic. But a traveler following the gullies would be relatively hidden from prying eyes, a fact which – as you will learn – Geralt took full advantage of.
"This is my story, not yours. You must let me finish telling it."
This article is a
stub
. You can help Witcher Wiki by
expanding it
.