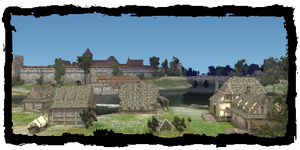 The homes in the Outskirts of Vizima are divided into a few small clusters of huts. One of these areas is the fishing village. There are five huts in the fishing village, the most prominent being Haren Brogg's house. The fishing village is just east of the main village, across the river from the old mill, on the road to the Merchants' bridge.
Other clusters include the main village, the farming village and the Inn.
Associated quests
Edit
Ad blocker interference detected!
Wikia is a free-to-use site that makes money from advertising. We have a modified experience for viewers using ad blockers

Wikia is not accessible if you've made further modifications. Remove the custom ad blocker rule(s) and the page will load as expected.