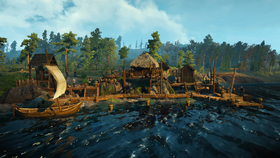 Fireburst Harbor is a port in Lovers Landing, village located in Velen but at first it is overrun by drowned dead and drowners. Once Geralt of Rivia kills them, the folk will come back. It does not have personal map description or fast travel sign.
Ad blocker interference detected!
Wikia is a free-to-use site that makes money from advertising. We have a modified experience for viewers using ad blockers

Wikia is not accessible if you've made further modifications. Remove the custom ad blocker rule(s) and the page will load as expected.