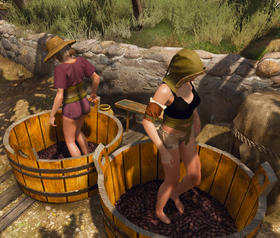 Feast of Wine Vat is the most important holidays in Duchy of Toussaint taking place in October at ending of the grape harvest.
In the course of the feast two scantily-clad young maidens (The Fair) are carried by enthusiastic men (The Young) into the vat, and then crush the grapes with their bare feet, accompanied by the celebrating crowds, music, and performing jugglers. All this to celebrate the end of the harvest and the beginning of the period of wine production. Everything happens the in capital of this fairy-talish land, Beauclair.
Ad blocker interference detected!
Wikia is a free-to-use site that makes money from advertising. We have a modified experience for viewers using ad blockers

Wikia is not accessible if you've made further modifications. Remove the custom ad blocker rule(s) and the page will load as expected.