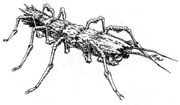 The eyehead, or Okogłów in Polish, is a monster with four pairs of thin legs, a segmented body, and eyes mounted on stalks. From a distance, the creatures resemble logs as they don't tend to move very much. They are not aggressive, but can attack when threatened. There is no known antidote for their venom. They have extremely sensitive hearing and metallic sounds such as those caused by swords can cause them extreme pain.
Ad blocker interference detected!
Wikia is a free-to-use site that makes money from advertising. We have a modified experience for viewers using ad blockers

Wikia is not accessible if you've made further modifications. Remove the custom ad blocker rule(s) and the page will load as expected.