Ad blocker interference detected!
Wikia is a free-to-use site that makes money from advertising. We have a modified experience for viewers using ad blockers

Wikia is not accessible if you've made further modifications. Remove the custom ad blocker rule(s) and the page will load as expected.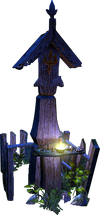 There are five Eternal Fire shrines which encircle the village in the outskirts of Vizima. It is there that Geralt must place the five Holy flames given to him by the Reverend in order to earn his trust. The Reverend believes that this act will drive away the Beast. Despite Geralt's assertions to the contrary, the deal is struck and it is around we go, at night, of course.
The shrines are spread around the entire outskirts area. There is:
Associated quests
Edit