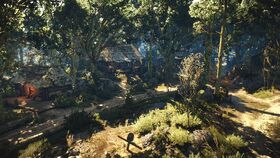 Erde is a nearly abandoned village. Only one very old couple remains. It is located to southeast of Draken Hollow Outpost and southwest of Zuetzer Castle.
Map description
Edit
This woodland settlement is almost entirely depopulated, and its proximity to Deadwight Wood scares off any potential new settlers.
Associated quests
Edit
Ad blocker interference detected!
Wikia is a free-to-use site that makes money from advertising. We have a modified experience for viewers using ad blockers

Wikia is not accessible if you've made further modifications. Remove the custom ad blocker rule(s) and the page will load as expected.