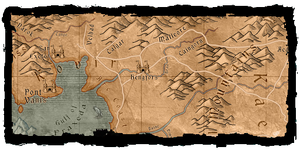 The East March was a part of Kovir which included Creyden, Malleore, Hołopole, Caingorn and Arcsea. The secession of Poviss and subsequent coup d'état meant that Kovir lost control of it. The region changed hands a few times over the years until finally becoming part of the Hengfors League.
Cities, towns and keeps
Edit
Notable people
Edit
Rulers:
Others:
Ad blocker interference detected!
Wikia is a free-to-use site that makes money from advertising. We have a modified experience for viewers using ad blockers

Wikia is not accessible if you've made further modifications. Remove the custom ad blocker rule(s) and the page will load as expected.