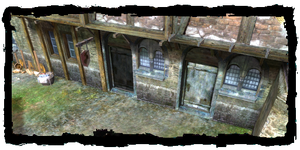 The dwarven blacksmith shop in Little Mahakam, the non-human district of Vizima's Temple Quarter, is run by Malcolm Stein, the blacksmith and his apprentice, the trader. They will serve only people who come recommended, and will not have their weapons be used against non-humans. How can you tell if he will deal with you?
This is one of the only places you can get a lightning rod made. The Order armorer would not know one if he tripped over it and was subsequently struck by lightning. You can also buy and sell goods here:
This should not be confused with the dwarven blacksmith's house located just east of here. Despite the fact that the mouse-over text on the door does say "house" not "shop", narratively, it is the shop.
Associated quests
Edit
Trade conditions
Edit
Chapter I

If you sold Haren Brogg's goods to the Scoia'tael during Strangers in the Night in Chapter I, Malcolm will deal with you at the beginning of Chapter II.

If you killed the Scoia'tael, he will not.

Chapter II

Will forge a lightning rod for 50 for The Sentry quest in Chapter II, which is 20 cheaper then his competitor - Order armorer.
If you side with the Scoia'tael in the Swamp during the Force Recon quest line in Chapter II, he will start dealing to you (again).
If you side with the Order in the Swamp during the Force Recon quest line in Chapter II, he will stop dealing to you.
If you complete A Ghost Story and free the half-elf woman from the thugs, he will start dealing to you again. This can be done either in Chapter II or Chapter III.

Chapter III
Ad blocker interference detected!
Wikia is a free-to-use site that makes money from advertising. We have a modified experience for viewers using ad blockers

Wikia is not accessible if you've made further modifications. Remove the custom ad blocker rule(s) and the page will load as expected.