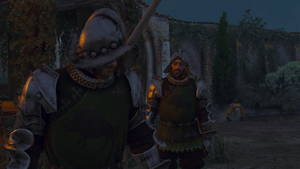 Dun Tynne Guards were the Toussaint knights who have served as army of lord Roderick of Dun Tynne on his castle and surroundings along with mercenaries from Nazair. Captain of the guard was lord himself and unit was almost entirely free from the law. Most of them died during attack of Ducal Guard under Damien de la Tour.
Those who did not, either managed to escape somehow or ended up in prison shortly after attack.
Associated quests
Edit
Ad blocker interference detected!
Wikia is a free-to-use site that makes money from advertising. We have a modified experience for viewers using ad blockers

Wikia is not accessible if you've made further modifications. Remove the custom ad blocker rule(s) and the page will load as expected.