Difficulty level is a mechanism in The Witcher game series affect the degree of challenge each game features.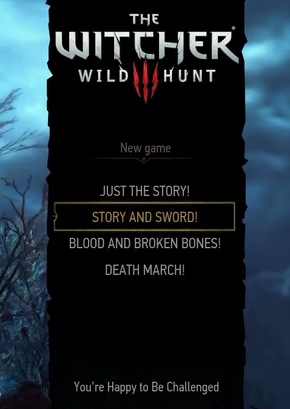 There are four levels of difficulty:
Just the Story (Easy) 
Edit
Enjoy a Smooth Ride Through the World 
If you are a casual gamer or just someone who wants to play for the story, choose the first difficulty option.
Story and Swords! (Normal) 
Edit
You're Happy to be Challenged
Players earn the default number of for tasks.
Blood and Broken Bones! (Hard)
Edit
You're a Seasoned, Demanding Gamer
players earn 90% of the default number of for tasks.
Death March! (Very Hard)
Edit
You're Truly Insane and Loving It 
Choose it if you are a hardcore gamer and worry that the other modes would be too easy for you!
Ad blocker interference detected!
Wikia is a free-to-use site that makes money from advertising. We have a modified experience for viewers using ad blockers

Wikia is not accessible if you've made further modifications. Remove the custom ad blocker rule(s) and the page will load as expected.