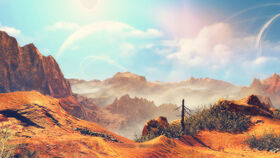 The Ddiddiwedht Desert is a desert that forms part of an abandoned and arid world inhabited by sandcrabs that Geralt and Avallac'h visit during the quest Through Time and Space.
Eons ago, a form of intelligent ocean life thrived there. It is a clear reference to Solaris, a novel written by Polish science-fiction writer Stanisław Lem.
Ad blocker interference detected!
Wikia is a free-to-use site that makes money from advertising. We have a modified experience for viewers using ad blockers

Wikia is not accessible if you've made further modifications. Remove the custom ad blocker rule(s) and the page will load as expected.