Daily Bread is a Secondary quest given by Toruviel, leader of the Elves of Murky Waters, in Chapter IV.
Walkthrough
Edit
Toruviel requests five loaves of Bread
, which she believes will cost 20
, to feed herself and her compatriots.
It doesn't matter where the bread comes from in order to complete the quest, but If Geralt decides to buy the bread from an NPC (namely, the Baker), it will actually costs 25
, not 20
, so Geralt can choose to:
pay the extra out of his own pocket, return to the elven refuge and say nothing to Toruviel, or
give Toruviel four loaves, explaining the price difference.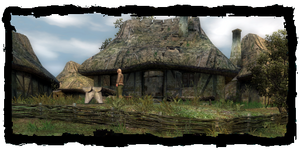 If you have been diligent about keeping your "shopping" up to date, you will have this bread ready. Otherwise, go see the baker in the village of Murky Waters and steal or buy some from him (there are four loaves of bread in his wardrobe to steal, so you may have to supplement that with what you find for free, or with a purchased loaf).
Buns don't count as bread in the game. If you go with 4 bread and 1 bun to Toruviel you will lose 1000 XP for nothing.
Toruviel gave me 20 orens and asked me to buy five loaves of bread for the elves. I must find a baker or a merchant. I must find a baker or a merchant. (20
)
A Bread Run
Edit
If you buy four loaves: I could only get four loaves for twenty orens. Time to get back to the elves in the cave. I should take the bread to Toruviel. (−20 ) or
Four Loaves / Five Loaves
Edit
If you bought four loaves: Toruviel complained about human greed. Maybe she's right? Either way, those loaves won't save the elves from starving. A few loaves of bread won't save the elves from starving. (7000 XP) or
If you bought five loaves: Toruviel was thankful for the bread, but what I bought can't save the elves, that's clear. A few loaves of bread won't save the elves from starving. (8000 XP)
Ad blocker interference detected!
Wikia is a free-to-use site that makes money from advertising. We have a modified experience for viewers using ad blockers

Wikia is not accessible if you've made further modifications. Remove the custom ad blocker rule(s) and the page will load as expected.