Cynthia is a secondary character in The Witcher 2: Assassins of Kings. She is Philippa Eilhart's "leashed sorceress", a sort of apprentice and evidently also the sorceress' lover.
Cynthia can be found in Philippa Eilhart's house in Vergen during Chapter 2. She will discuss the Wild Hunt with Geralt, if Geralt has found the Wild Hunt investigator's notes.
Cynthia is also involved in the quest The Secrets of Loc Muinne. This is a new quest added in the Enhanced Edition, and only available on Iorveth's Path. Upon completing the quest, Geralt can either side with Cynthia or take revenge for her role in Triss' kidnapping. If sided with, she can become a sexual partner for Geralt, whereas if sided against, she and Adalbert are killed by the witcher after a strenuous battle.
During Where is Triss Merigold?, Geralt learns from Shilard Fitz-Oesterlen that Cynthia, unknown even to Philippa, is actually a Nilfgaardian spy that was sent to infiltrate Saskia's rebels and spy the actions of the Lodge of Sorceresses. While under cover she managed to capture Triss and compress her into a small jade statuette which she gave to a messenger to send it to Shilard.
Significant plot details end here.
Journal Entry
Edit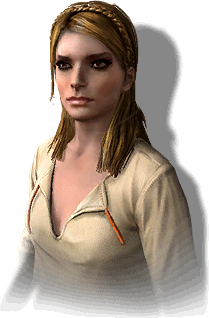 In The Witcher 3: Wild Hunt, there is a gwent card that bears her image and name.