Ad blocker interference detected!
Wikia is a free-to-use site that makes money from advertising. We have a modified experience for viewers using ad blockers

Wikia is not accessible if you've made further modifications. Remove the custom ad blocker rule(s) and the page will load as expected.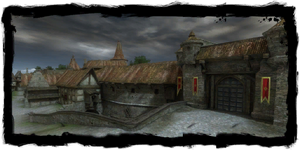 The Cloister is where the Order of the Flaming Rose makes its headquarters in the city of Vizima. It remains locked and inaccessible for most of the game. We only begin to see activity outside its main doors during Chapter III and Geralt is only finally able to enter it during the Epilogue.
| | | |
| --- | --- | --- |
| | There is really only one haven of law and order in the Temple Quarter of Vizima. It is the Cloister — the seat of the Order of the Flaming Rose. Crimson banners embroidered with a rose hang before the entrance. Only authorized personnel can enter. Inquiries should be directed to Siegfried, whose office is in one of the buildings belonging to the Order. | |
Associated quests
Edit