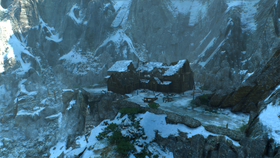 Clan Tordarroch Forge was the best forge in all the Isles, located on the island of Undvik. After the Ice Giant awoke from his slumber, the Ice Giant completely wrecked the place and stored all of his food (mostly comprising of human corpses) inside the forge.
Map description
Edit
A famous forge where the best tools and weapons in all of Skellige were once made. When the Ice Giant took over the isle, he turned it into his larder.
Associated quests
Edit
Ad blocker interference detected!
Wikia is a free-to-use site that makes money from advertising. We have a modified experience for viewers using ad blockers

Wikia is not accessible if you've made further modifications. Remove the custom ad blocker rule(s) and the page will load as expected.