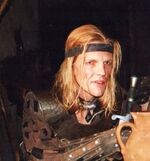 " — slim, dark-haired man... Delicate features, enormous black eyes and pointed ears betrayed him to be a half-blood elf."

— page 92, The Last Wish (UK edition)
Civril is a brigand and a professional murderer with a sharp tongue. According to rumours, he was at Tridam. He is part of Renfri's band. He features in the short story "The Lesser Evil".
Civril also appears in the graphic novel "Mniejsze zło" (The Lesser Evil)
He was portrayed by Grzegorz Emanuel in The Hexer, evidently the dark hair was not a consideration for the film.
Episodes
Edit

This article is a stub. You can help Witcher Wiki by expanding it.
Ad blocker interference detected!
Wikia is a free-to-use site that makes money from advertising. We have a modified experience for viewers using ad blockers

Wikia is not accessible if you've made further modifications. Remove the custom ad blocker rule(s) and the page will load as expected.