The Cianfanelli Bank has a branch in the city of Ellander. A large sum of orens was transferred there for the Temple of Melitele. Geralt also had an account at the branch in Beauclair while he wintered in Toussaint. The slogan of the bank is: We look after your coin as if were our own and the customer is always right. However, it is shown that the bank staffs are mostly red tapes in which Geralt often gets into a lost trouble to get the permission to withdraw his money.
Branch locations
Edit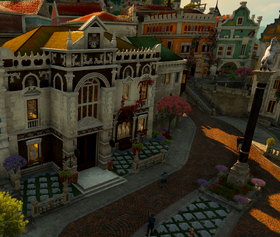 A branch of the Cianfanelli Bank is located at the Gran'place, a famous square in Beauclair. It offers a standard selection of bank services, such as the ability to exchange orens and florens to crowns, and the provision of loans. This branch is headed by Giacomo Cianfanelli.
In the Paperchase quest, Geralt may come to the branch to withdraw money left for him in a savings account by a contract giver long ago.
Exchange rates
Edit
Associated quest
Edit
Associated items
Edit
In Blood and Wine, there is a mission for Geralt to take the permit A38 to withdraw money, which is based on The Twelve Tasks of Asterix cartoon in term satirizing the red tape.