The Cianfanelli Bank has a branch in the city of Ellander. A large sum of orens was transferred there for the Temple of Melitele. Geralt also had an account at the branch in Beauclair while he wintered in Toussaint.
Branch locations
Edit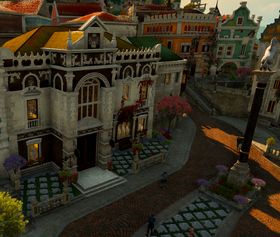 In the second expansion for The Witcher 3: Wild Hunt, Geralt visits the Beauclairi branch located to the west of the Gran place singpost during the secondary quest Paperchase. Head of service is Giacomo Cianfanelli, dwarf obviously.
Exchange rates
Edit
Associated quests
Edit
Associated items
Edit
Ad blocker interference detected!
Wikia is a free-to-use site that makes money from advertising. We have a modified experience for viewers using ad blockers

Wikia is not accessible if you've made further modifications. Remove the custom ad blocker rule(s) and the page will load as expected.