Ad blocker interference detected!
Wikia is a free-to-use site that makes money from advertising. We have a modified experience for viewers using ad blockers

Wikia is not accessible if you've made further modifications. Remove the custom ad blocker rule(s) and the page will load as expected.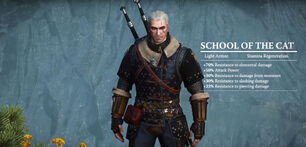 Cat or Feline School Gear is a witcher armor and swords set inspired by the Cat School for witchers. Its one of Scavenger Hunts sidequests in The Witcher 3: Wild Hunt. The set includes chest armor, steel and silver swords, crossbow, gauntlets, boots, and trousers, all of which are upgradeable. Crossbow is Not upgradeable.
The armor set is worn by Gaetan in the DLC Quest Where the Cat and Wolf Play..., as well as presumably being worn by Kiyan before he was experimented on by a mage.
Feline gear
Edit
Enhanced Feline gear
Edit
Superior Feline gear
Edit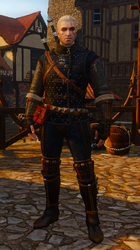 Mastercrafted Feline gear
Edit
Legendary Feline gear
Edit
Grandmaster Feline gear
Edit
Enhanced Legendary Feline gear
Edit
Superior Legendary Feline gear
Edit
Mastercrafted Legendary Feline gear
Edit