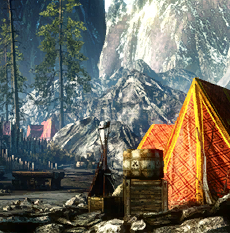 Camp of the Order of the Flaming Rose is a location at the entrance of Loc Muinne in The Witcher 2: Assassins of Kings.
Journal Entry
Edit
The knights of the Order of the Flaming Rose brought to Loc Muinne by King Radovid of Redania had made camp at the city's gates. Tasked with maintaining order and providing security for guests arriving for the summit of mages and monarchs, they were keen to observe the traffic streaming into the city.
Ad blocker interference detected!
Wikia is a free-to-use site that makes money from advertising. We have a modified experience for viewers using ad blockers

Wikia is not accessible if you've made further modifications. Remove the custom ad blocker rule(s) and the page will load as expected.