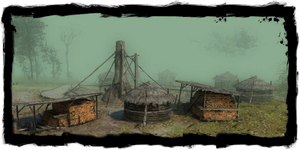 The Brickmakers' quarry is located in the southern part of the swamp, near the landing and the Brickmakers' village. It is where the clay pits, which provide the raw material for the bricks are found. There is also a large furnace and a vodyanoi altar. The brickmakers consider the vodyanoi to be the Water Lords. This is the area that Geralt is asked to clear of drowners by Vaska. It is also the area were Berengar's bloody belongings were found.
Associated quests
Edit
Ad blocker interference detected!
Wikia is a free-to-use site that makes money from advertising. We have a modified experience for viewers using ad blockers

Wikia is not accessible if you've made further modifications. Remove the custom ad blocker rule(s) and the page will load as expected.