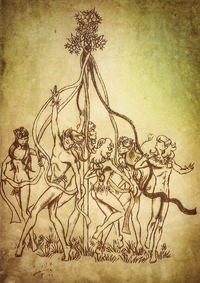 Belleteyn or Beltane,[1] sometimes known as "May Day", "May Night" or "Blossoming", takes place on the night of May Eve, the night of April 30th into May 1st. It is a fertility festival beginning at dusk on the 30th and continuing until the dawn of the 1st. It is also a traditional time to begin (or end) relationships of a physical nature. Food, drink and love are the order of the evening making this celebration a time of many marriages. Bonfires abound, and revellers are encouraged to jump the flames for luck and their own fertility.
This holiday of the elven calendar marks the beginning of the fifth savaed, Blathe.
Magical Holidays
Edit
Notes & references
Edit
↑ David French's translation
Ad blocker interference detected!
Wikia is a free-to-use site that makes money from advertising. We have a modified experience for viewers using ad blockers

Wikia is not accessible if you've made further modifications. Remove the custom ad blocker rule(s) and the page will load as expected.