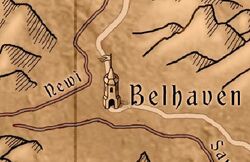 Belhaven is a city in Nazair, a province of Nilfgaard in the Slopes. It lies between the Sansretour and Newi rivers, south of Riedbrune and north of Beauclair.
It is not a particularly affluent city, its primary industry being the export of iron ore to Mag Turga. It was in this area that the Free Slopes movement was born.
Ad blocker interference detected!
Wikia is a free-to-use site that makes money from advertising. We have a modified experience for viewers using ad blockers

Wikia is not accessible if you've made further modifications. Remove the custom ad blocker rule(s) and the page will load as expected.