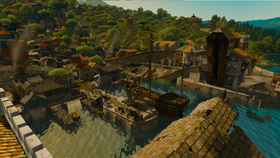 Port District
widely known simply as
Beauclair Port
is one of the districts of
Beauclair
, capital city of
Toussaint
. It is located in easternmost part of the city near
San Sebastian
district. One of three main markets of duchy is located here. Down on docks is a wonderful piece of winching machinery, designed to unload cargo from the ships that dock along the
Sansretour River
.
Map description
Edit
The best wine comes from Toussaint – any sommelier will tell you as much. Bottles bearing its famed labels are worth fortunes and even grace the tables of kings - indeed, today one can barely imagine a royal feast without Côte-de-Blessure or Est Est. And it is here, at Beauclair's port, that this wine begins its journey both to the south – into the heart of the Nilfgaardian Empire – and to the far-off North.
Major landmarks
Edit
Ad blocker interference detected!
Wikia is a free-to-use site that makes money from advertising. We have a modified experience for viewers using ad blockers

Wikia is not accessible if you've made further modifications. Remove the custom ad blocker rule(s) and the page will load as expected.