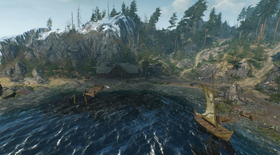 The Bay of Winds is a coastal village on the south-western shores of An Skellig. Several drowners prowl the beach there.
Map description
Edit
'Three generations ago this bay was a popular meeting spot for the local youth. Then one night a terrible storm broke out and the sea pounded into the beach, swallowing up several merry-makers and dragging them out to a watery grave.'
Ad blocker interference detected!
Wikia is a free-to-use site that makes money from advertising. We have a modified experience for viewers using ad blockers

Wikia is not accessible if you've made further modifications. Remove the custom ad blocker rule(s) and the page will load as expected.