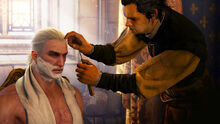 A
Barber
 is a person whose occupation is mainly to cut, dress, groom, style and shave hair, usually of men and boys, and shave or trim beards. A barber's place of work is known as a "barber shop" or a "barber's". Barber shops are also places of social interaction and public discourse.
For detailed information see Barbers and Coiffeuses
For detailed information see Beard and Hairstyle Set
Ad blocker interference detected!
Wikia is a free-to-use site that makes money from advertising. We have a modified experience for viewers using ad blockers

Wikia is not accessible if you've made further modifications. Remove the custom ad blocker rule(s) and the page will load as expected.