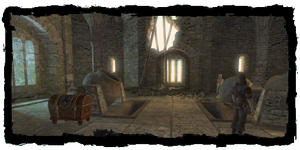 The armoury is where Eskel can be found for a bit of sparring after the battle at Kaer Morhen keep. It is on the second floor of the fortress at the east end of the main corridor. There are still a number of weapons and training forms lying around from the old days, and several crates and chests with useful items.
Associated quests
Edit
Containers found
Edit
Ad blocker interference detected!
Wikia is a free-to-use site that makes money from advertising. We have a modified experience for viewers using ad blockers

Wikia is not accessible if you've made further modifications. Remove the custom ad blocker rule(s) and the page will load as expected.