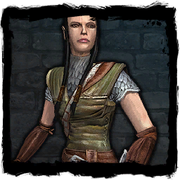 Anastasia Travers is the voice actress who portrayed Toruviel in the English version of The Witcher. According to the Internet Movie Database, it was Travers' first role.
Toruviel was voiced by Bożena Stachura in the Polish version of the game, and played by Agnieszka Dygant in The Hexer TV series.
External links
Edit
Ad blocker interference detected!
Wikia is a free-to-use site that makes money from advertising. We have a modified experience for viewers using ad blockers

Wikia is not accessible if you've made further modifications. Remove the custom ad blocker rule(s) and the page will load as expected.