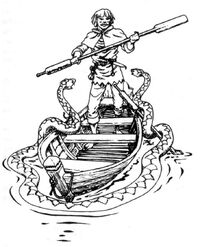 The amphisbaena is a giant water serpent with a head at each end.
In Act IV of the game, when Geralt is trying to get information out of the seemingly mute Fisher King, he asks if the lake is safe and whether or not there are amphisbenas in it.
Ad blocker interference detected!
Wikia is a free-to-use site that makes money from advertising. We have a modified experience for viewers using ad blockers

Wikia is not accessible if you've made further modifications. Remove the custom ad blocker rule(s) and the page will load as expected.