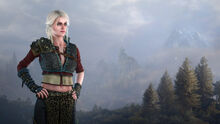 Alternate look for Ciri is a new outfit for Ciri inspired by the latest fashion in Zerrikania.[1] It is one of 16 free dlc for The Witcher 3: Wild Hunt released on July 19, 2015. The outfit can be disabled or enabled in the Downloadable Content tab of the main menu.
Official statement
Edit
Mix things up with this new and finely crafted outfit for Ciri.
Notes & references
Edit
Ad blocker interference detected!
Wikia is a free-to-use site that makes money from advertising. We have a modified experience for viewers using ad blockers

Wikia is not accessible if you've made further modifications. Remove the custom ad blocker rule(s) and the page will load as expected.