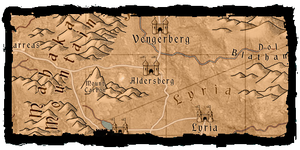 Aldersberg is a city in Aedirn. It is presumably where Jacques de Aldersberg is from, but names can be deceiving. The area immediately surrounding the city is also the site of two battles during the 2nd Nilfgaard-Nordling War. The first battle went poorly for the north, but the second battle ended in a northern victory.
Notable Aldersbergers
Edit
Ad blocker interference detected!
Wikia is a free-to-use site that makes money from advertising. We have a modified experience for viewers using ad blockers

Wikia is not accessible if you've made further modifications. Remove the custom ad blocker rule(s) and the page will load as expected.