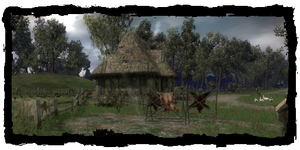 Abigail's house, commonly referred to as the witch's hut, is just north of the palisades surrounding the Inn in the Outskirts of Vizima. It is here that Alvin resides for most of Chapter I, under the watchful eye of the soothsayer.
Associated quests
Edit
Containers found
Edit
Ad blocker interference detected!
Wikia is a free-to-use site that makes money from advertising. We have a modified experience for viewers using ad blockers

Wikia is not accessible if you've made further modifications. Remove the custom ad blocker rule(s) and the page will load as expected.