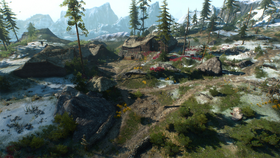 This Abandoned Village, located in the northern part of Undvik, northwest of Urskar, has been ravaged by the Ice Giant after he woke from his slumber.
Map description
Edit
This village's residents were forced to abandon it in a hurry when the Ice Giant unexpectedly awoke and decided to make known his wrath.
Ad blocker interference detected!
Wikia is a free-to-use site that makes money from advertising. We have a modified experience for viewers using ad blockers

Wikia is not accessible if you've made further modifications. Remove the custom ad blocker rule(s) and the page will load as expected.