This article is a stub. You can help Witcher Wiki by expanding it.
A Dangerous Game is a Secondary quest in The Witcher 3: Wild Hunt.
Quest Description
Edit
Zoltan laments to Geralt about his gambling debt to Cleaver acquired from playing Gwent. He mentions two unique Gwent cards he's come across that he's found a buyer for and asks Geralt to help him retrieve them.
Objectives
Edit
Get the Fringilla Vigo, Isengrim, and Natalis cards for Zoltan
Find a way into Zed's home
Search Zed's home
Find Zed's ledger
Find the Isengrim card
Bring the card and Ledger to Zoltan
Meet Zoltan in front of Caesar Bilzen's house
Get the John Natalis Card from Ravik
Search upstair in Caesar Bilzen's home
Let Zoltan know you've found the card
Search the body for the Natalis Card
Bring the cards to Zoltan
Go to the Meeting with Zoltan's buyer
Chase Duke
Return to Zoltan.
At the end of the quest you can either keep the cards or give them to Zoltan and receive 350 gold.
If you don't choose the cards then the Collect 'Em All quest will fail.
A reference to the Quentin Tarantino film Pulp Fiction is present when Zoltan asks what happened to Zed. Geralt replies "Zed's dead," referring to when Butch Coolidge (played by Bruce Willis) tells his partner Fabienne what happened to the character Zed from the movie.
There's a third option to get the John Natalis Card from Ravik that will keep him alive, without playing Gwent. Before approaching the thugs, you can throw a bomb at them and they'll attack you, while Ravik will survive. After you talk, he'll give you the card.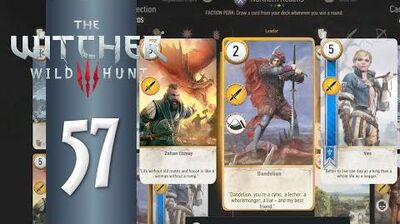 Ad blocker interference detected!
Wikia is a free-to-use site that makes money from advertising. We have a modified experience for viewers using ad blockers

Wikia is not accessible if you've made further modifications. Remove the custom ad blocker rule(s) and the page will load as expected.